Check How To Look Your Best In Scarf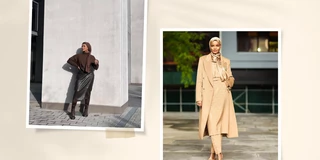 By Adeniyi Ifetayo
Scarves are very versatile and immediately elevate any look by adding class and style. They also add some flair and mystery, while keeping you modest.
Here are some ideas for looking stylish and modest while wearing a scarf.
1. Go with neutral tones
Stick with one colour palette throughout your look. Use neutral shades like black, white, beige, or grey to create a classic look. These colours go well with most outfits and you can wear them with everything.
2. Choose the correct fabric
Look for scarves made of breathable, light materials like silk, cotton, or linen. Wool and other dense fabrics should be avoided as they might make your clothing look bulky.
3. Wrap it properly
There are various ways to tie a scarf, but the "twist and loop" method gives a more subdued appearance. Wrap the scarf around your neck in a half-fold. Then, loop it back around your neck. Take one end, and twist it around the other end.
You can also try the European knot by folding the scarf in half and looping the folded end to the other end.
4. Don't over-accessorize.
Reduce your jewellery if you're wearing a scarf. Use modest earrings and stay away from necklaces, bracelets and earrings that can clash with the scarf.
5. Wear the right scarf
Make sure the scarf's type goes with the event. A cotton scarf might be ideal for a casual outing, but a silk scarf might be appropriate for a formal occasion.
Source: pulse.ng