I Killed A Lion At 17, how?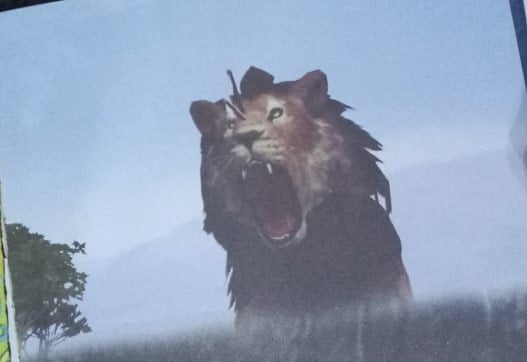 By Adeniyi Ifetayo
OpenLife Nigeria reports that in the events leading to the takeover of several local government areas in the north east parts of Nigeria by Boko Haram, an Army General narrates how he was deeply touched by the audacity of the insurgents especially as the takeover diminished his rating in the community in view of his braveness at age 17 when he killed a lion with just bow and arrow.
The Army General, Tukur Buratai, who served as Army Chief of Staff between 2015 and 2021 recollected in a book, in his honour " The Legend of Buratai," how he saved his Buratai village from a ravaging lion at a tender age and how that singular action re invigorated his commitment to banishing insurgents from Nigeria's geographical space
In late 2018, I received some news from one of the commanders of the Nigerian Army. He said:
"Sir, I regret to inform you that the enemies have attacked our base in Gudumbali through the support of some locales and some fifth columnists in the base," said the Commander.
"I am not going to tolerate any excuse or explanation here. Just see to it that you finish the bastards, reclaim the base and restore order in the areas you mentioned before I come.
And next time, try to be ahead of your target, know where your target is heading, that's the only way to deal with them."
I was restless and angry. I could not sleep so early in the morning. I mobilized my entourage and went straight to Maiduguri to take charge of the situation. It was a minor setback the troops encountered in Gudumbali but the media over blew the whole thing and made it looked as if the whole area was under the control and grip of the insurgents.
I arrived Maiduguri around 6.25 am and went to the Theatre Command to review operational strategies. I did not waste too much time because I knew what to do. I told everyone that we were heading to Gudumbali to fight and crush the insurgent and restore order in the area of the town.
"I came here today because of two reasons. One, I want to lead this operations and secondary, I do not want any of these insurgents to go scot-free; none of them should be allowed to escape . Today, we must teach them a bitter lesson," I thundered and banged my fist on the table.
One of the reasons I started work as Chief of Army Staff with much zeal and vigour was because the insurgents were so bold enough to go as far as attacking and destroying my village, Buratai.
In fact, they burnt down my house which I built with hard earned money when I was a Brigadier.
The news was everywhere and some colleagues who knew that I hail from that village were calling me to show sympathy.
I boiled with rage for nearly 48 hours when I received the news. I was very angry because my people were there: uncles, aunties, nieces, nephews, close friends etc and all of them were innocent.
Most of them were simple farmers and artisans.
Having spoken with the GOC about the need to deal with the criminals, I knew that attacking my village was an affront to my person and a great dishonor done to my name and dignity.
My name is General Buratai but now Buratai had been ransacked and occupied by terrorists.
The people of Buratai view me as a warrior right from my youthful days when I killed a lion that was terrorizing my village.
The lion had killed two people in their farms and everyone was afraid. The villagers were scared to death and people stopped moving around in the night.
I looked unto the great hunters to stand up to the challenge and devise a way to get rid of the lion but nothing happened.
One day, I decided to kill the lion. I just made up my mind to kill the lion so that the people of Buratai can move about freely. I did not discuss this with anyone because I certainly know that no one will support me to go and endanger my life to kill the lion.
The lion is not just a strong animal. It is also a charismatic animal that the mere sight of a roaring lion can paralyze humanity with fear.
However, the decision had already been made and even though I lacked the experience of killing a lion, I knew that God would give me the strategy to kill it.
In my mind, I saw me killing that lion alone with my bow and arrows.
I have come to realize one thing in life and it is this: 'A warrior is defined by more than simply physical might and strength . One must be wise and skilled in how they use their strength.
In this difficult matter of killing the lion, I knew that physical strength alone could not defeat the lion.
Therefore, I devised a strategy. What I did was to go to Chara village and bought a new bow and some poison to apply on the arrow. I consulted with the best bowyer and arrow smith. I gave him my specification. I needed an arrow made from iron rods and I want them to be so sharp that a single shot can collapse a lion. "The arrowhead must be fatal," I said to the arrow smith. I took ample time to practice how to shoot with sharp precision. It took met twenty days to become an excellent archer.
On the 11th May, 1977, I went to the bush with water bottle, dried dates, kulikuli, a sword and my bow and arrows. I had taken time to study and observe the movements of the vicious lion. It had developed a pattern. It would come through a thorny path every Friday in the evening. There used to be a small cave adjacent the thorny path that the lion used to follow.
I entered inside the small cave and put down my sword, water bottle, dried dates and kulikuli. I surveyed the area and perfected my plans on how to ambush the lion. I know the power of surprise and ambush and my instincts told me that the best strategy to deal with the lion is to take the initiative and ambush it.
I sat down to meditate in the cave while eating my dates and kulikuli.
I came to the cave 30 minutes after 12 pm and meditated for about two hours. I gulped some water and then laid low as a sentinel, observing every movement and sounds and places . This is a matter of life and death and I cannot afford to be careless. I need to be on full alert.
At exactly 5.55pm, I saw the lion coming towards the thorny path. The lion looked tired which I think might be either hunger or harsh weather. It was moving slowly, very slowly. Suddenly, I figured out the whole thing.
There was an antelope wondering aimlessly. I had a feeling that it was time to strike. The lion was intent to murder the antelope but was negligent as well because it was not paying attention to its surrounding.
Inside the cave, I had 11 arrows with me. I took one of the arrows and aimed it towards the lion's head and I crouched down, holding my bow on my left hand. I aimed towards the centre of his head and shot. It got frightened since it was unsure of where the arrow was coming from.
I swiftly retrieved a second arrow and shot at it once more. Once again, on its chest, head, right leg and more.
When I noticed that it had fallen down, I halted. I remained for about 30 minutes and then emerged from the cave, drew nearer and continued shots on its head. The ferocious lion moaned in agony and it approached the end of its life. I went back inside the cave to get some water and rest. I felt anxious. I returned with sword in both hands and cut off the lion's head.
I grabbed its head and placed it in a sack, set it aside and then carried the body close to the cave. I took the head to the village and everyone was astounded. I was only 17 then. The local chief invited me to his castle for a special commendation and the news went round.
The killing of the lion brought relief to the Buratai village and turned me into a local celebrity.