5 Nigerian celebrities with famous parents you may not have known about.
By Elegbede Abiodun
Having famous parents in the entertainment industry can be a major boost to one's career. But it's also important to note that talent and hard work are crucial in order to make it in the industry.
Yul-Edochie and his famous parent; Pete-Edochie
For many aspiring stars, the journey to becoming a famous celebrity is a difficult and challenging path.
In Nigeria's entertainment industry, there are several celebrities who were born into famous families, giving them a headstart in carving out their own paths while also carrying on their family legacies.
These celebrity offspring have inherited their parents' talents and connections, making them popular figures in their own right.
So, if you've ever been curious about the stars who owe their fame to their lineage, you're in luck. In this article, we'll introduce you to five Nigerian celebrities who have famous parents you might not have known about.
1) Yul Edochie
Famous parent: Pete Edochie
Pete Edochie is one of the pioneers of Nollywood, and his contributions to the growth and development of the industry cannot be overstated.
However, what many people may not know is that his son, Yul Edochie, is also making waves in the industry and has carved a name for himself as one of the most talented actors of his generation.
Born on January 7, 1982, Yul is the last son of the famous Nigerian legendary movie star, Pete Edochie. Growing up in a family of actors, it was only natural that Yul would follow in his father's footsteps and pursue a career in the entertainment industry.
Yul started his acting career in 2005, and since then, he has appeared in so many movies, including Wind of Glory, Royal Challenge, and The King and the Python.
Aside from being a talented actor, Yul is also a movie director and an active voice on the political scene. He has used his platform to advocate for good governance and encourage Nigerian youths to be more politically engaged.
One of the most striking things about Yul is the resemblance he shares with his father. Not only do they look alike, but Yul also speaks exactly like his father, making it impossible to deny that he is the true son of Pete Edochie.
2) Regina Daniels
Famous parent: Rita Daniels
Regina Daniels and her famous parent: Rita Daniels
Regina Daniels is a young Nollywood actress who has made a name for herself in the industry thanks to the help of her mother, Rita Daniels who is a famous Nollywood actress, movie producer, filmmaker, politician, and entrepreneur.
Born on October 10, 2000, Regina has been acting since she was seven years old and made her debut in the movie Marriage of Sorrow at the age of eight.
Since then, Daniels has gone on to feature in several other movies, and television shows, and has even produced some of her own films.
She has earned numerous accolades, including nominations for Best Actress of the Year at the Africa Magic Viewers' Choice Awards(AMVCA) and Most Promising Actress in Nigeria at the Africa Movie Academy Awards (AMAA).
3) Seun Kuti
Famous Parent: Fela Kuti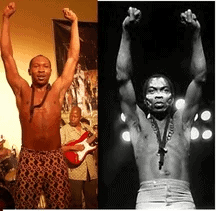 Seun Kuti and his famous parent; Fela Kuti
Seun Anikulapo Kuti is a name that is synonymous with the legendary Afrobeats musician, Fela Anikulapo Kuti. But did you know that Seun is not just the son of Fela, but also the grandson of women's rights activist Funmilayo Ransome Kuti?
It's no wonder that Seun has become a famous musician in his own right, following in the footsteps of his iconic father and grandmother.
Like his father, Seun uses his music to speak out about social and political issues in Nigeria. He has been committed to these causes since the beginning of his music career and has become a voice for change in the country.
In addition to his music, Seun has also taken over his father's band, Egypt 80, and has kept the legacy of Fela alive through his performances. He has toured extensively across the world, bringing the sounds of Afrobeats to new audiences and earning him a Grammy nomination for his album Black Times.
Seun, alongside his elder brother, Femi Kuti, continues to honour his family's legacy through his music and activism, making him one of the most influential figures in Nigerian music today.
4) Clarence Peters
Famous Parents: Sir Shina Peters and Clarion Chukwura
Clarence Peters and his famous parents; Sir Shina Peters and Clarion Chukwura
Clarence Peters and his famous parents; Sir Shina Peters and Clarion Chukwura
Clarence Peters is a name that is well-known in the Nigerian music industry. You have to be living under a rock to not know the famous "Clarence Shot It".
Peters is a music video director, cinematographer, and the founder of Capital Dream Pictures, a production company that has made a significant impact in the industry.
What many people may not know is that he comes from a family of famous parents.
His father is the famous Fuji music icon, Sir Shina Peters, while his mother is the veteran Nollywood actress Clarion Chukwura. Born into a family of wealth and affluence, Clarence had access to many opportunities, but he didn't rest on his laurels.
Instead, he worked hard to carve out a name for himself in the entertainment industry. Peters has directed numerous music videos for some of the biggest names in the Nigerian music industry.
His work has earned him several awards and nominations, and he is widely regarded as one of the best in the business.
It's clear that the apple doesn't fall far from the tree when it comes to Clarence Peters. His parents' fame and success have undoubtedly influenced his career path, and he has used that influence to create something remarkable for himself.
5) Lionel Orji
Famous Parent: Zack Orji
Lionel Orji and his famous parent; Zack-Orji (Credit: GH Gossip)
Lionel Chukwuemeka Orji is the son of Nollywood veteran actor Zack Orji. Born on August 15, 1992, Lionel is a fast-rising singer, songwriter, and recording artist who is quickly gaining recognition for his musical talent.
He has received numerous accolades, including the Top Naija Music Award for Best Sound Recording and Artist to Watch.
One interesting thing about Lionel is that he bears a striking resemblance to his father, Zack Orji. From their facial features to their mannerisms, Lionel is definitely his father's son.
But while his father is known for his acting prowess, Lionel has chosen to pursue music as his passion. And he's been doing a great job at it too.
So if you haven't heard of Lionel Chukwuemeka Orji yet, now's the time to pay attention as he is a rising star to watch out for in the Nigerian music industry.
– Pulse.ng –