Streetlight projects allocation higher than health, education budgets — Tracka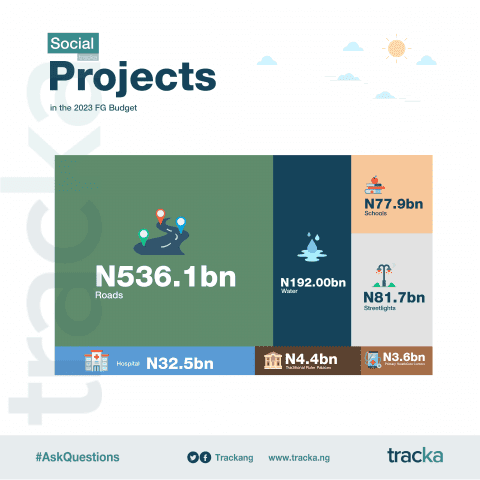 Allocations to Social Projects – 2023
A non-governmental organisation, Tracka, has said that the Federal Government's allocation for the construction of streetlights is higher than the combined sum allocated for education and health.
According to findings by BugIT, a service delivery promotion platform under the NGO which allows citizens to collaborate, track, and give feedback on public projects in their communities, a total of N81.7 billion was allocated to the construction of solar street lights in the 2023 FG Capital and Constituency projects while the total allocation to schools and primary health centres gulped N77.9 billion and N3.1 billion respectively in the 2023 budget.
This is even as a 2022 UNESCO report pegged Nigeria's out-of-school children figure at 20 million, a staggering 52 per cent increase from the 10.5 million reported by UNICEF in 2020. Nigeria's child mortality rate is the second-highest in the world, and maternal mortality is at 576 per 100,000 live births, the fourth-highest in the world.
They noted that "The bogus allocation to streetlights is a gross misplacement of priority. Nigeria is also presently littered with non-functional and vandalized streetlights that have stopped working less than two years after their construction."
Speaking on these findings, the Acting Head of Tracka, Ayomide Ladipo, said, "The implications of assigning projects to agencies out of their mandate is that it undermines monitoring, evaluation, and the sustainability of these projects. These agencies lack the expertise and personnel to ensure quality service delivery of these projects, leading to projects under-delivery and a colossal waste of taxpayers' money and scarce resources.
Tracka's analysis also discovered that over 687 projects worth N112 billion were allocated to agencies outside their mandate.
Punch