Buhari celebrates last Sallah in Aso Rock, says 'I can't wait to go home.'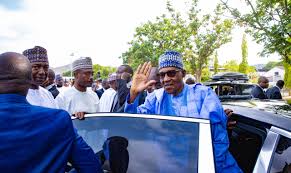 President Muhammadu Buhari says he cannot wait to head to his hometown in Daura, Katsina state, after he hands over on May 29.
Buhari spoke on Friday at his ninth and final Sallah celebration at the presidential villa, Abuja.
The president described himself as being lucky to have led Nigeria in various capacities.
He also thanked the residents of Abuja for "tolerating him" in the last seven and a half years.
"I can't wait to go home. I deliberately arranged to be as far away as possible from you people," he said.
Source: insight news