Omugwo: The Cherished Igbo Cultural Practice that Helps Young Mothers to Understand Motherhood and Childcare.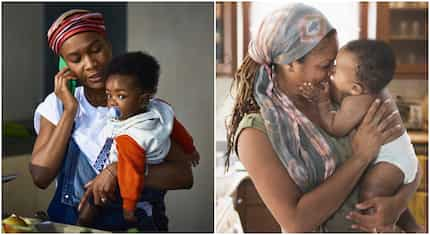 By Elegbede Abiodun
Culturally, it is generally believed that young women do not really understand what it takes to care for a newborn child. Omugwo is, therefore, postpartum care given to a young mother by a much more experienced woman who must have raised many kids herself.
The reasoning behind Omugwo is that young mothers need to be tutored on how to care for newborn babies and also helped to understand the changes that occur in their bodies during pregnancy and after childbirth.
Apart from teaching young mothers how to care for a newborn, Omugwo serves as a transfer of family knowledge from the older generation of mothers to their daughters, who will do the same for their children. A lot of new mothers look forward to the period their mothers will visit for Omugwo.
How Omugwo is done:
Omugwo kickstarts immediately after a new mother gives birth. Culturally in some parts of Igbo land, such as Ebonyi state, both the mother of the husband and the wife must go for Omugwo in separate periods. In Ebonyi state, the wife's mother goes when the first child is born. On the arrival of the second child, it becomes the turn of the husband's mother. This turn-by-turn procedure is strictly followed and respected.
It is the duty of the husband to inform his mother-in-law or mother that the expected baby has arrived. It is also his responsibility to bring the mother or mother-in-law for the Omugwo. Sometimes, the husband will have to travel to the village and personally bring the mothers for Omugwo. He must do this within the very first week of delivery. Sometimes, the person who is going for Omugwo is already available before the delivery date and starts work immediately.
Preparations for Omugwo
Apart from the husband, the mother going for Omugwo also has some responsibilities. The mother who must have had the knowledge that her daughter or daughter-in-law is pregnant starts preparing for her journey even before the delivery date. From her own experience of childbearing and postnatal care, she knows exactly what a new mother needs within the critical first weeks and months after delivery. She prepares herself by getting the necessary herbs, spices and native food condiments that help a new mother recover from the stress of childbirth. Some of these condiments that a mother handpicks by herself include pods of uda (selim), dry mangala fish, dry cayenne pepper, white puna yam, utazi leaves, ogiri and Cameroon peppers. All these are used for pepper soup meant for a new mum.
What a mother does during Omugwo
Immediately she arrives, the mother who comes for Omugwo goes to work. Omugwo is misunderstood to be a period of enjoyment, but it is not. It is actually a lot of work, where knowledge is transferred to the new mother, who must be confused about many things. There are so many things that a mother does during Omugwo.
First is hot water therapy. The mother massages the new mother to help relieve any pain or discomfort she may be feeling after childbirth. This is critical for healing. The mother also bathes the new mum as it is believed there is a specific way of bathing someone who just gave birth. The mother, who is more experienced, shares childcare knowledge with the new mum. She teaches her how to breastfeed and how to bathe a new baby and also uses the native condiments she brought to cook some specific food like pepper soup and 'ji mmiri oku' for the new mum.
How long does Omugwo last?
The number of days a mother stays for Omugu varies, depending on the family. In the past, Omugwo used to last as long as three months of continuous teaching and learning. However, many families now shorten this to two weeks. In the end, it is the duty of the husband to prepare for the mother to go back home. He is expected to show appreciation to the mother or mother-in-law as she leaves his house. This appreciation may be in terms of physical cash, wrappers, food items and more. This is not a written law, and it is not a payment for the Omugwo service, but it is morally expected of the husband not to leave his mother or mother-in-law empty-handed after Omugwo.
Source : legit