Complete List of Nigerian Banks With New Names With CBN Approval, One Splits Into Two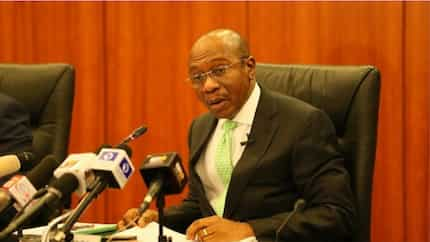 Some Nigerian banks have embarked on massive restructuring, which will affect their operations.
Specifically, these banks adopted subtle name changes to reflect their new directions First Bank, Sterling Bank, and Zenith Bank have all announced change of names recently.
Nigerian banks are repositioning for more significant impacts, better product offerings, and higher returns on investment. Apart from announcing several changes, the banks moved to solidify their leadership positions by changing names, branding, and operational structures.
Godwin Emefiele, Governor of the Central Bank of Nigeria Credit: Nigerian banks seek new frontiers and new profits Earlier in March, one of Nigeria's leading banks, Zenith Bank, announced that it was rebranding into a Holding Company known as Zenith Holding Co.
Zenith Bank said it had received approval in principle from the Central Bank of Nigeria to restructure and operate as a financial holding company. The company revealed plans to change its organizational structure in a statement signed by the Company Secretary, Michael Otu, on Friday, March 3, 2023, and submitted to the Nigerian Exchange. With this change, the organization will have a banking subsidiary and other subsidiaries in the financial services sector.
Sterling Bank joins the fray, splits into two In April, Sterling Bank Plc announced that it had completed an essential step in its ongoing efforts to shift from a financial institution to a holding company. The bank said the move is in line with the delisting, transfer, and relisting of all shares to the Sterling Financial Holding Company on the floor of the Nigerian Exchange. The bank said the move is in line with the delisting, transfer, and relisting of all shares to the Sterling Financial Holding Company on the floor of the Nigerian Exchange.
Per a statement by the firm, the relisting shows another significant development in the ongoing transition, which the bank's shareholders unanimously approve. As ratified by the Nigerian Exchange, the bank stated that this move follows approval in principle for it to operate as a Holding Company by the Central Bank of Nigeria (CBN). The bank will convert to a non-operating financial holding firm as approved by the Central Bank of Nigeria (CBN) and is expected to enable it to diversify its investment portfolio, expanding its presence in the financial markets
Punch reports that upon completion of the transition, Sterling Holdings Company would begin operations with two banking subsidiaries, one operating as a conventional commercial bank and the other as the Alternative Bank Limited, which will operate as a non-interest bank.
First Bank changes name and most recently, Nigeria's oldest bank, First Bank, announced a corporate name change for its African subsidiaries. According to a statement by the ban, the name change aligns with the subsidiaries of the parent brand and enjoys the strong heritage and brand equity built by FirstBank Nigeria in its 129 years of existence and industry leadership.
Punch reports that the name change affects its operations in several African countries where it has its presence. The bank named the first set of subsidiaries affecting the name alignment as FBNBank UK, FBNBank Sierra Leone, FBNBank Gambia, and FBNBank DRC. Per the statement, the subsidiaries would be addressed as FirstBank UK, FirstBank Sierra Leon, FirstBank Gambia, and FirstBank DRC. While the banks' change of names does not affect their core operations and responsibilities, it will affect public perceptions and customers' acceptance
The banks joined other banks that have significantly rebranded and repositioned in Nigeria. Ghana's bonds debt default causes widespread loss among Nigerian Banks, as Zenith Bank, others bleed Earlier, Legit.ng reported that, according to a recent report, Nigerian banks recorded huge losses on their investments in Ghanaian bonds, which caused delays in releasing their financial statements and audited accounts. Nairametrics reports that Access Bank, FBN Holdings, and Fidelity Bank have yet to release their financials. Ghana is battling debilitating economic crises caused primarily by lower commodity prices that have reduced its fiscal revenue cushions.
Source: Legit.ngp . .  .it.ng