How did you come about Entrepreneur Mentor?
About 4-5 Years ago, I was working in a cubicle in a bank, and it just dawned on me that I cant live my dreams working from the cubicle in the bank. The pay (salary ) was okay by Ngerian standard, but I discovered that even at that, I was living from hand to mouth. On a saturday morning, I got to a point where I was frustrated because I had done everything they asked me to do; Go to school, get a good education, get a good job and I was working in a bank and yet, I couldnt see myself living life on my terms. And I cried out in desperation to God, and I said "God if you would show me how I can come out of this life of quiet desperation, having to live life on my terms, if you can show me; if you can show me how I can drive the car of my dreams without soiling my hands, if you can show me how I can live in kind of houses I have wanted to live in, I am going to impact that same knowledge to the world, I am going to raise as many people to begin to live life on their terms and God answered that prayer by introducing me to the connected economy and through the connected economy I live the dream life of every young man. And the economy was born to fulfil that pledge to God. Am going to mentor as many people and show as many people how they can come out of their life of quiet desperation and begin to live life on their terms and that is how the vision was birthed.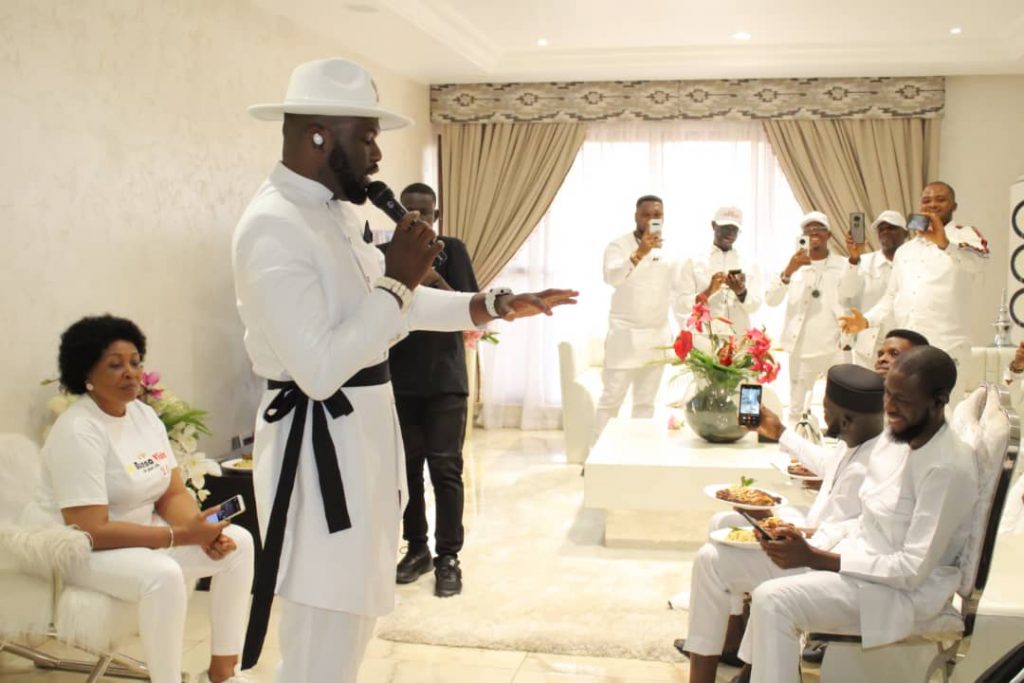 You seem to have big ambition to raise 50,000 millionaire by year 2024, Can you tell us more about it?

Vision 2024 is to raise 50,000 multi millionaires in the connected economy. 2016 till now we have only done about 1,500 that's why we are out there to make sure the vision comes to pass.
it got to a point in my life why i began to apologise to people why I couldnt give to them what they want to get. While working in the bank I found out that even though I was earning a salary I was still in that same shoes, cause I asked myself If i leave this bank job what is going to happen to me? Thats when I knew that we cant keep making money the way our parents made money and thats when I cried to God in my moment of despiration to show me how I can live life on my terms, show me how i can live my dreams, show me how not to be an apology to my generation, show me how to impact lives and thats how I got into this, with a digitally connected economy. And because I said yes to a connected economy, today I live in an empire. I have helped lots of people, you saw what happened, lots of people buy their luxury cars living their life. The La Buena Vida has taken all over Nigeria and people are seeing the good life. There is a possibility they can live the good life and that's how we will raise the 50,000 multimillionaire by the year 2024.
What does it take to be successful in Nigeria?
It is difficult to become a success in Nigeria, I think the problem is we are trying to go the archaic way, we are trying to dig out money from the industrial economy, the industrial age is gradually winding down. The days of go to school, get a job those days are winding down, I call it the old money. The old money is fizzling away, we have the new money, this is what we are doing now, nobody will pay the kind of money we are making here. Look at the graduates on the streets looking for jobs, this is 2020 not 2002. You can't expect to make money the same way they make money in 2002 in year 2020. So what I tell people is open your eyes, the cheese has moved, just find out where the cheese are and just go there and thats the digital and connected economy and thats what we are doing, thats the reason people are making money, the reason people are creating value and people are living the life of their dreams because we are in the new dispensation and this is the business of the 21st century. If you do it, you will be successful and live a life of your dreams.
Entrepreneur Mentor and social capital, what's the connection?
Social Capital is the capital of the future starting from now. Social capital is the way people are going to make a lot of money. Check out the richest men in the world Mark Zuckerberg for example, Mark zuckerberg owns facebook, but it isnt facebook that is making him money, its the people that use it. Facebook has over 2 billion users those are his social capital, look at Travis Callaknic the man that co-owns Uber he has millions of people using Uber. Uber doesnt give him money but because of the people using Uber he makes money. if you look at whats happening in the world today, you would discover that the people making money are those who are leveraging on social capital and the good news is that everyone has social capital, the 5 year old boy has his father and mother as social capital. The 13 year old has a phone and on that phone they have whatsapp, facebook and various people and contacts thats social capital. A lot of us have social capital, but many of us dont know how to convert the social capital to money, so what we are doing at La Buena Vida (Entrepreneur Mentor) is to show people how they can convert their social capital to money and become extremely wealthy. Gone are the days when we make money the way our parents make money and now, leveraging on your social capital, thats what we do.
If you want to be part of this revolution, click the link below
http://www.entrepreneurmentor.com.ng//member