Keyamo reacts to Tinubu's inclusion on Time's most influential people list
By Elegbede Abiodun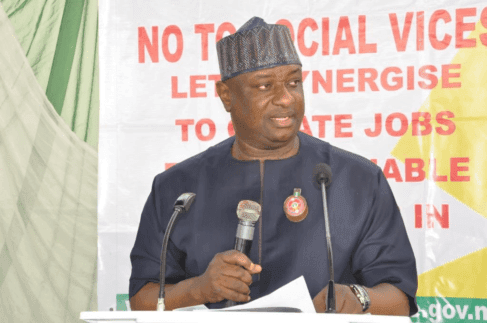 FESTUS KEYAMO PHOTO: TWITTER/FESTUS KEYAMO
Nigeria's junior labour minister Festus Keyamo has reacted to the inclusion of Nigeria's president-elect Bola Ahmed Tinubu on Time magazine's 100 most influential people of 2023.
Tinubu has had a great year so far especially after the Independent National Electoral Commission (INEC) declared him as the winner of the 2023 presidential election which was held on February 25th.
"Our own ASIWAJU @officialABAT is one of the 100 most influential People in the world by Time magazine. He made it under the category of LEADERS. Enormous respect. Let the wailing of losers begin," Keyamo, who is also a spokesperson for Tinubu's campaign, said on Thursday.
Time magazine while selecting Tinubu as one of its 100 most influential people of 2023 said winning an election in Africa's most populous country is no easy feat.
"But Nigeria's newly elected President Bola Ahmed Tinubu has had nearly two decades to prepare. Called Jagaban, or "leader of the warriors," by his supporters, the now 71-year-old ran in a presidential election for the first time this March.
"His campaign slogan, "It's my turn," was a nod to his role as a longtime political power broker. Tinubu helped restore the country's democracy in 1999 after fighting military rule and then served two consecutive terms as governor of Lagos."
Tinubu, a former Lagos State governor and the candidate of the All Progressives Congress (APC) won the election with the majority of votes cast in 36 states of Nigeria and the FCT.
The APC candidate polled 8,794,726 votes to defeat fellow contenders – Atiku Abubakar of the opposition People's Democratic Party (PDP) who polled 6,984,520 votes, Labour Party's Peter Obi had 6,101,533 votes to come third and candidate of the New Nigeria People's Party (NNPP) Rabiu Kwankwaso with 1,496,687 votes.
"But Tinubu's win with the ruling All Progressives Congress Party came in a fraught election and by a slim margin over Atiku Abubakar and Peter Obi.
"It was the first time Nigerian voters contended with a third-party candidate, and many discontented young Nigerians yearning for change pinned their hopes on Obi.
"Marred by allegations of intimidation and vote rigging, the outcome of the ballot is being challenged in court," Time magazine wrote.
-guardian.ng-