Edeh, RSDF President, Reiterates Commitment To Grassroots Sports
By Adeniyi Ifetayo
The president of Ratels Sports Development Foundation (RSDF) and Ratels Football Club, Barrister Paul Edeh, has reiterated his commitment to grassroots sports development in Nigeria.…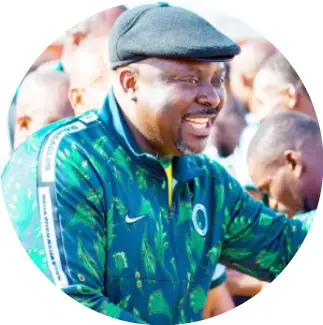 RSDF president, Edeh
Edeh made this known at the opening ceremony of the third edition of Ratels Benue State Football League, of which his foundation is the sole sponsor.
"Like it's often said, charity begins at home and of course Benue is my home. This is where I did my primary, secondary and tertiary education. Unfortunately I did not do my NYSC here because the law does not permit otherwise I would have done it here.
"I think the state has given so much to me. I cannot but give back to society. I know sometimes when individuals embark on a project such as this, there's a coloration of politics attached to it but I am glad this is the third edition of the Ratels Benue state football league in a row.
"We have watched good football here and from every indication there's hope for our football because there are numerous talents at the grassroots. That's why I believe with just a little opportunity we can identify these talents and nurture them to stardom," said the legal luminary.
On his part, the Benue State Director of Sports, Comrade Philip Ter Nongo, lauded the partnership between RSDF and Benue State FA in grassroots football development.
He said "this partnership is yielding the desired dividends. Some of the players discovered are already playing for Lobi stars and some other clubs in the country. "Here in Benue, we are very happy with the giant strides recorded so far since the competition started three years ago. I will remain eternally grateful to RSDF for leading the revolution of football development in Benue state."
-dailytrust.com-