De Don: I used to thrill my classmates, teachers with tortoise stories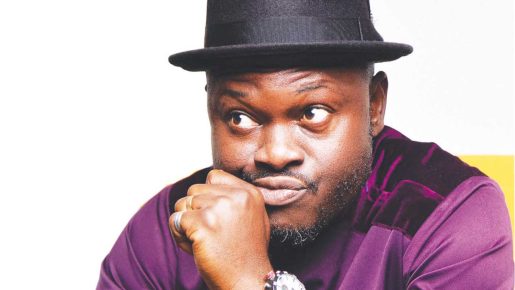 By Adeniyi Ifetayo
Canada-based Nigerian, Okeremute Don Iruvwe, popularly known as De Don, is a stand-up comedian, actor and on-air personality. The native of Agbarha-Otor, Delta State, is the ninth of 10 children and was born in Eku, Delta State and grew up in Abraka, his mother's hometown. He obtained a bachelor's degree in Economics from the Lagos State University. He came into stardom after featuring in the popular A Night of a Thousand Laughs, where upcoming comedians are discovered. He has, however, gone on to perform alongside top comedians, including Alibaba, AY, Basorge Tariah Jnr, Okey Bakassi and Basketmouth. In 2019, he went into movie production with his sitcom, 'The Real Don'. In 2011, he created and aired the first ever stand-up comedy show on radio in Nigeria, Comedy Happy Hour with DeDon on Rainbow 94.1FM. In this interview with IJEOMA THOMAS-ODIA, he speaks about relocating from Lagos to Canada and the comedy appreication in the diaspora.
Share with us your sojourn into comedy.
Comedy started for me during my primary school days, when I used to thrill my classmates and even teachers with some funny tortoise-related stories. When I got into secondary school, I used to engage in what we call, back then in Delta State, yabis (teasing). In my third year in secondary school, I met Baba Kome the Joker, he was a student of Delta State university, Abraka and he was the biggest comedian in Delta then. He inspired me but I didn't consider stand-up comedy as a profession because I didn't know such a thing existed. I only saw Kome as an entertainer. I used to take the jokes I saw Kome do at campus shows to my secondary school and wow my school mate with them. When I moved to Lagos in 1999 and began to watch the likes of Alibaba, Basorge Tariah Jnr, Basket Mouth and Okey Bakassi, on television, that was when I realised that stand-up comedy is a professional career. So I took it seriously, I started performing at Lekki Beach, and my school, Lagos State University where I met with Sound Sultan of blessed memory. He later introduced me to Basketmouth, who advised me to attempt the famous Night of a Thousand Laughs audition. When I attended the event, I was picked with two other comedians (I go Save and Talkative) to perform for the first time on October 1, 2002 at A Night of a Thousand Laughsaughs.
With over a decade experience in the industry, how would you say the industry has evolved compared to when you started?
Technology has made it so easy to get into the limelight now, compared to when I started. Now with just your smartphone, you can make your way to stardom in the comfort of your home. When I started comedy, you had to do a series of appearances at various shows to gain recognition. Some shows you attend, you may not get the opportunity to perform because there are other big stars, though that didn't happen to me because I always make sure I arrive early enough. I prefer now because the industry has evolved and big brands now identify with the industry. Now we get brand sponsorship and endorsement, Nigeria comedy is now a big export with the help of technology, I mean YouTube, Facebook, Instagram.
Having relocated to Canada, how has it been doing comedy abroad, what are the peculiarities and what do you think can be done differently?
For me, there is not much difference here in Canada compared to Nigeria. The only difference is the difficulty I faced in 2021, when I was trying to introduce an absolute comedy show here in Canada. Just like in Nigeria before 2012, if you want good attendance at your show as a comedian you must include a big musical artist on your bill. When we noticed that majority of the audience actually leave the auditorium during the musical performances because we used to round-off our shows with the musical artists, we kept them for last. A lot of us (Comedians) realised that the audience actually came for comedy, so a lot of comedians stopped featuring big musical artists on our comedy shows. Right here in Canada, it was a bit difficult to convince the Nigerian audience to pay for an absolute comedy show but with great anticipation and marketing strategies, I was able to pull through. Now, with just my face on a poster, I can sell out an absolute comedy show here in Canada. Another difference I have noticed, it is easier to get professional vendors here in Canada. The challenge is that vendors charge far more compared to Nigeria. One thing I think Nigeria comedians can do differently is respect time. I consider it really wrong to advertise 8pm and start at 10pm. I know Nigerians come late for event but I particularly prepare something for early comers and now my audience both in Nigeria and here in Canada know I'm serious with time.
What challenges have you faced in the course of your career?
The only thing I really consider a challenge is the issue of piracy, where a comedian will tell your joke/material without giving credit. Some skit makers act my joke and don't even give credit. Another thing I used to consider a challenge was the fact that comedians don't get on bills based on merit or talent but rather by 'man-know-man'. I stopped seeing it as a challenge since I began to grace my own platforms.
What new project are you working on?
My comedy tour here in Canada, Payday Laffs with DeDon and DeDon Unblended live. I was at Edmonton, Alberta on Friday 17th of March, 2023 and it was a sold-out show. Next stop is Toronto on Saturday 15th of April, 2023 and I'm working on doing more cities.
What does fashion mean to you?
Fashion means looking good for me, and it gives me a lot of confidence especially when I'm wearing my favourite Nigerian designer, Mudi Africa.
What is your style?
I love casuals, Jeans, T-shirts and natives.
Who are your role models?
It depends, I have role models for different aspects of my life. When it comes to living life, it's my mother, the late Deaconess Catherine Iruvwe, because she lived a modest life and taught me contentment. As for comedy, my role models are Alibaba, Basorge Tariah Jnr, Okey Bakassi, Basket Mouth and Steve Harvey.
What is your favourite local dish?
I love Owho and starch; its an Urhobo delicacy.
What would you have been doing if not comedy?
Car wash, bar and event venues business.
How rewarding is comedy?
Really rewarding for me. It gives me the opportunity to express myself and influence my society, at the same time earn a living while doing what I really enjoy.
What are your hobbies?
Cooking, swimming, and traveling.
Describe De Don in three words?
Simple, determined and fun-loving.
-guardian.ng-