Little Boy in School Uniform Plays Drum Like a Pro Without Looking.
By Elegbede Abiodun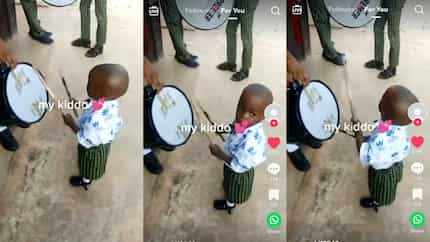 Basit Jamiu, a little boy with a high level of talent has amazed people with his drumming skills in a viral Tiktok video.
In the clip, the little kid was accurately hitting all the right notes to produce the sounds required for Nigeria's national anthem. The boy did not break a sweet due to his immense talent, as he was able to take his eyes away from the drum without making a mistake.
Other than the other school mate who held up the drum for him, as is typical of many primary schools in Nigeria, the kid had no further support producing the beat of the national anthem.
Many social media users who watched the video applauded the talent of the little boy, who has now gone viral on TikTok. As of the time of writing this report, the video had gathered 5000 likes and 100 comments on TikTok.
Little boy with 'fire' hands
Meanwhile, Legit.ng previously reported that we are all born with unique talents, and gifts, and these skills usually manifest at a tender age.
This little Nigerian boy unarguably has what it takes to take over the music world with the modern drum set. A video showed him playing the drum set with poise and expertise like a pro. He made music through his drumming, as all who listened knew it wasn't just noise but beautiful sounds from a musically inclined drummer.