Nigerian Graduate Who Rides Okada Builds Noiseless Generator That Doesn't Use Fuel: "It Took Me Thirteen Heart."
By Elegbede Abiodun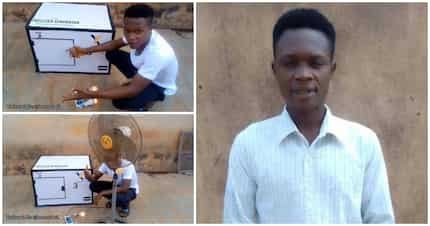 A computer science graduate has invented a noiseless generator that does not require fuel to function. The young man who rides okada for a living said it took him 13 years to build and shared why it took that long. He needs sponsors to mass produce the generator, which is eco-friendly and can carry many appliances at the same time.
Oyekunle Michael, a computer science graduate from Interlink Polytechnic, has invented a noiseless and fuelless generator. The Oyo state indigene, with some other inventions to his credit, said he had over 15 failed attempts before he finally got it right in 2022.
In a clip shared on Twitter, the young man who rides okada for a living demonstrated using the generator, which took him 13 years to create due to financial constraints.
How effective is Michael's fuelless generator? 
Speaking exclusively with Legit.ng on the generator's power, Michael said it is eco-friendly, easy to use, requires less maintenance, and durable.
His words: "It's very effective just like normal petrol and diesel generator. The one I built now has 900 watts capacity of the 'I Better Pass My Neighbor' gen and can power home appliances like TVs, fan bulbs, depending on size.
"I can build from 1kva up to 20kva to power a whole building and offices, with help and support." What inspired Michael to build a fuelless generator? Michael said it all started about 13 years ago when his parents separated. He revealed: "It all started 13 years ago. My mum and dad got separated and things becomes hard for me and my mum. She had to send me to Ibadan to stay with my dad's elder brother in a very remote area.
"We trekked miles to go to school. No light, to read, iron clothes, watch movies and all. People that managed to on gen then, trek miles to get fuel.
"I thought of building a generator that will work without fuel 24/7 so everyone can have a steady alternative power supply. I told my physics teacher about it and he said it's possible if I can build my engine to drive the alternator."
He set to work afterwards. "I started working on it. I told my guardian and he liked the idea but there weren't funds to assist me in making one as he is a civil servant and a farmer. "From my earnings, I finance my ND in computer science and still saved money to build a prototype of the fuelless generator. I had over 15 failed experiments before I finally got it right last year 2022, and spent close to 250k to get it done aside from those failed experiments."
He is now seeking support to mass produce the generator and can do even bigger capacity generators if money is provided.