Speaking with Kamal Adisa, a motion graphics designer working at RCA Records, a label under Sony Music Entertainment.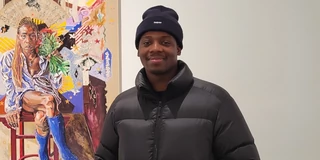 Kamal Adisa is a 24 year old visual artist
Kamal specialises in animating song and album artwork, editing promotional videos, and conceptualising engaging lyric videos and visualisers.
He has worked with Doja Cat, Sza, Wizkid, and Steve Lacey. He was also part of the team that launched albums like Made in Lagos (Wizkid), Planet Her (Doja Cat), and Denim (Odunsi the Engine).
Here's his story;
"I've always done fine art since I was little and I am currently 24. I grew up and spent most of my life in Lagos. I went to school in Olashore in Osun State. Then I went to high school in Jordan, that was my first experience outside the country, my experiences outside the country were so important. I went to New York for college, Parsons School of Design and I graduated in 2019.
When I was applying to college, I was focusing on art schools. I knew I wanted to study anything related to art. I am so grateful that I got to go to school there because of the kind of people I met, professors I had, and the kind of conversations we had in class. When I am working now, I think of what I was taught in college.
I've always been into art and drawing, when I was in school, it was literally all I wanted to do, like I would be drawing at the back of the class. When I grew up, I realised it could be a career – like me living off art. At first, I was into drawing and fine art, but I was exposed to graphic design or animation when I left for High School.
When I first got into Parsons I wanted to do product design, but they [the college] make you try everything. I feel like that first year was pivotal to me. I learned a little about product design and realised that I don't like working with my hands, but I liked using a computer.
My parents were very supportive, and my father was surrounded with people who were making a living off art. They prepared me to be able to put in 120% and I am really grateful.
I took a class at Parsons by a professor who's an amazing artist and animator filmmaker and he taught us to use this program called cinema 4D. Throughout the class we were preparing to make a film by the end of the class.
The professor told me and the rest of the class to apply for a competition – Student Animation Competition at Denver's 2019 Supernova Film Festival. I had an idea that I had been sketching, so I decided to use it for my short film.
I went to Denver to watch other people's work. It was a big film festival experience, it was just the icing on the cake that I won. My short film, Paradise Island, is a film about a boy who wakes up on an island and has different adventures. It's a funny film, nothing serious.
At RCA, I work as a motion graphics designer, so anything close to animation, I do it. Someone else will do the cover art and we figure out a way to animate it and it could be on DSPS like Spotify or for ads. We also do lyric videos. We get a lot of creative freedom, but you also have to know the vibe of the artiste you are working with.
Right now, what I earn is not a lot, but it's above average. When I started working at RCA, it was my first job out of college with Covid happening and everything being remote. The company was figuring things out and I was just joining, it was a big shift from having a specific schedule in school. I had to take care of my mental health and communicate with people at work, so I had to tell them that the deadline wasn't possible because I want everyone to be happy."
Source: Pulse.ng