Osimhen's Secret Fitness Diet!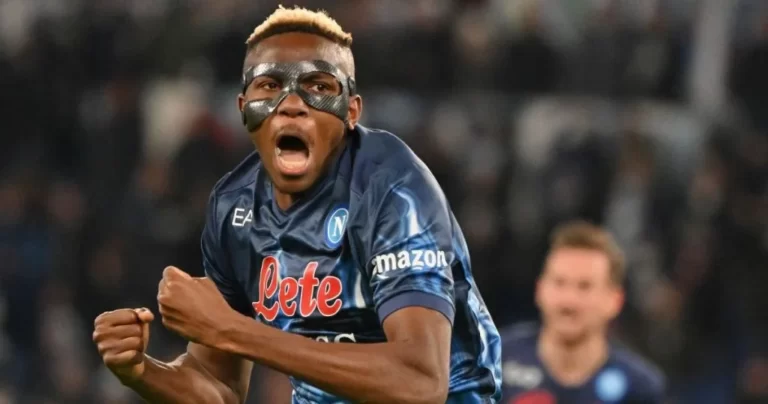 …Italian media says semolina, egusi and beans has helped Napoli striker stay strong
Ever wondered why Nigerian striker Victor Osimhen is so energetic, bullish and never seems to tire out during games?
Well, now you'll know, after Corriere del Mezzogiorno recently revealed the secret to the Nigeria international's fitness.
The 24-year-old has taken Italian football by storm and has become one of the most prolific strikers in Europe, pushing Napoli in their Scudetto chase and seeing them through multiple tests this season.
The 24-year-old is enjoying a brilliant season at the Diego Armando Maradona Stadium, scoring 25 goals in 29 appearances across all competitions to help Luciano Spalletti's side sit 21 points clear in the Serie A table and reach the Champions League quarter-finals.
…Italian media says semolina, egusi and beans has helped Napoli striker stay strong
The Partenopei are now just 15 points away from winning their first Scudetto since 1990.
According to the Italian media outfit, the Nigerian carefully follows a diet to always stay fit and in the right weight.
"Victor Osimhen continues to amaze everyone in this blessed season for him and for Napoli. Among the secrets of the Nigerian forward there is also his diet. Rice and potatoes, beans, but also semolina with meat are some of the basic ingredients of Victor Osimhen's table, which winks at the Nigerian gastronomic tradition.
"The champion chose the Sharon restaurant in Torino, in the Neapolitan capital, as his favourite place. Owned by the Nigerian Erbor Patience, who has been in Naples for 13 years, the restaurant is the best observatory for discovering, even more profoundly, the conduct food of Osimhen: yellow rice or red rice seasoned with egusi, a fish and vegetable-based sauce, is the dish most requested by the footballer," the newspaper read.
Osimhen's brilliant form this campaign has attracted interest from top clubs in the English Premier League with Manchester United, Chelsea, Liverpool and Arsenal all keen on signing the Nigerian striker, The PUNCH reports.