Olori Tobi Philip- Ogunwusi, other prominent south west indegenes Appointed into Southwest Advancement Award and Investment summit Advisory Council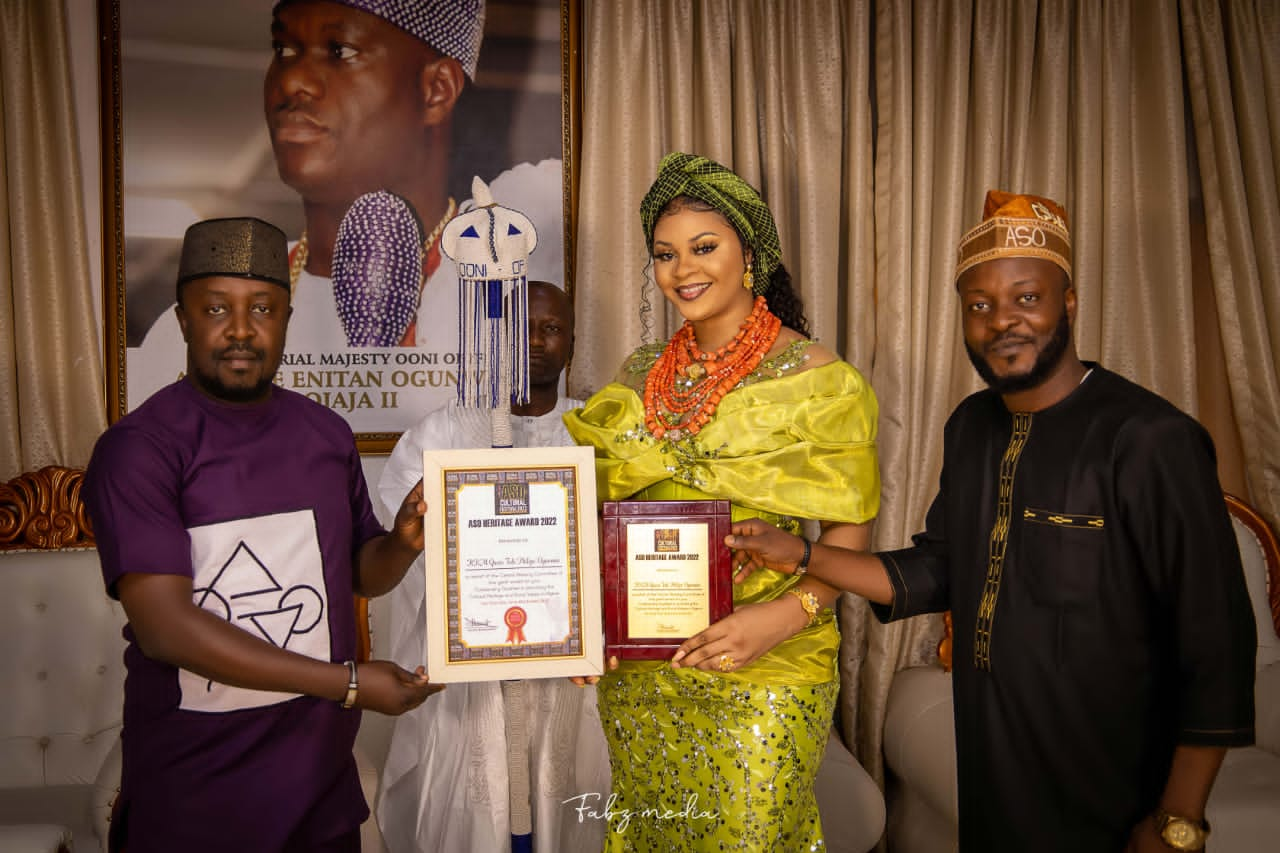 Olori Tobi Philips Ogunwusi the wife of the imperial majesty Ooni of Ife and other prominent Yoruba indegenes have been appointed into the Southwest Advancement Award and Investment Summit Advisory Council .
The duo of Amb Agboola Tolu Kingsley and Amb Desmond Agboola-CEO Aso Multi Media, the Conveners of the event,  visited the Ooni of Ife palace on Tuesday 14th Feb 2023 to officially present Aso Heritage Award 2022 to her majesty Olori Tobi Philip- Ogunwusi and to formally delivered her appointment letter as member Advisory Council of Southwest Advancement Award and Investment summit 2023.
The 3rd Edition Southwest Advancement Award and Investment summit 2023 is scheduled for Saturday 8th and Sunday 9th July 2023 at the Prestigious Lagos Oriental Hotel. Lagos State, Nigeria.
SOUTH-WEST ADVANCEMENT AWARD & INVESTMENT SUMMIT is an annual '2' day conference convened to foster the development of trade and investment in South-Western Nigeria.
This premier event is also designed to unravel the untapped resources in each of the six South-Western states (Ekiti, Lagos, Ogun, Ondo, Osun & Ogun) and how they can be utilised to foster sustainable development in the region and consequently boost the nation's Gross Domestic Product (GDP).
The event will feature Brand Exhibition and will have highly interactive panel discussions with key players from different industries and one-on-one access to key industry policy makers.
The event will also provide an opportunity for potential investors from Asia, Europe and the Americas to experience a virtual tour of these states and exploit their resources .
The south-west Advancement award is designed to celebrate southwest indegenes who are doing well in their various endeavour. The award is a reverence point in appreciating excellence in service, accountability and social responsibility in the society.
Other members of the Advisory Council are: Chairman- Mr Lai Labode – Chairman CashToken Africa, Mr Ifetayo Adeniyi – CEO Mega Star Magazine, Mr Akinwale Abidakun – CEO Bluemart Realty LTD, Mrs Bunmi Ademosu – Special Adviser to Ondo State Governor on inter- Governmental Affairs, Mr Omololu Fatumbi- Coordinator Yoruba Tennis Club, Her Majesty Olori Tobi Philip- Ogunwusi, Mr Isaac Fayose- CEO View Point Luxury Hotel, Mrs Abiola Adelana – Tourism Business Manager-Sterling Bank PLC, Otunba Olakunle Azeezz – CEO Kaysa Global Investment, and Rtn. Hajia Abimbola- CEO Kimkab Global Resources LTD, Mr Opeyemi Oretuyi – Senior Legislative Aide to Hon. speaker Federal House of Representatives