Ooni, The Ojaja Pan-African Business Initiatives Finds Foothold in Kenya
By Elegbede Abiodun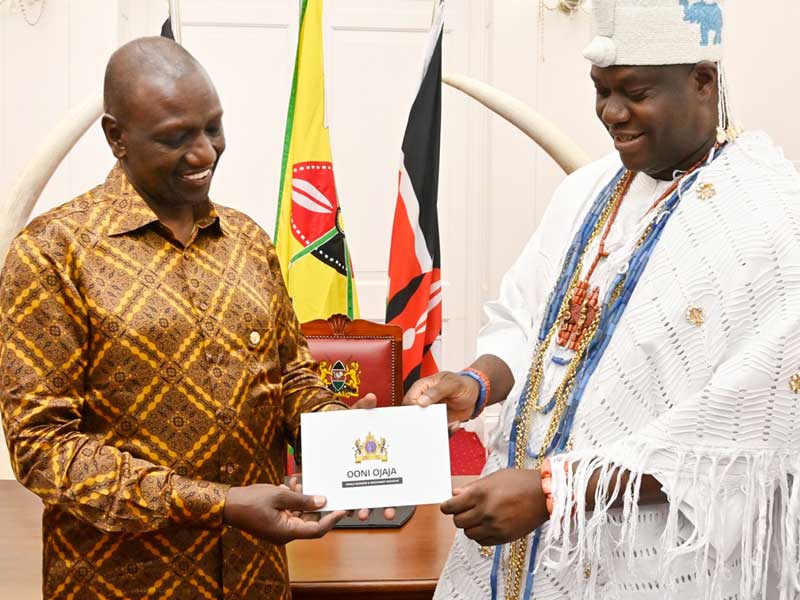 The Ooni of Ife, Oba Adeyeye Ogunwusi, recently visited Kenya as part of his ongoing efforts to promote peace and business opportunities across the African continent. During his visit, he met with Kenyan President William Samoei Ruto and other dignitaries to discuss his global peace agenda and the Ojaja Pan-African Business Initiatives.
The Ojaja Pan-African Business Initiatives, which the Ooni is championing, aims to promote economic development and prosperity across Africa by investing in various sectors, including retail, hospitality, and education. The Ooni's investment footprint is expanding beyond Nigeria, where the Ojaja More retail outlets, Ojaja Resort, and Ojaja University are already established.
In Kenya, President Ruto welcomed Ooni's investment mission and expressed his government's support for the Ojaja Pan-African Business Initiatives. He also encouraged Nigerian businesses to explore investment opportunities in Kenya and promised his government's support in facilitating their entry into the Kenyan market.
"Kenyans and Nigerians are partners in progress for the development of Africa. The two countries have enjoyed good diplomatic ties together and this visit and investment mission in Kenya will surely further strengthen the existing cordiality between our two countries," Ruto said.
While thanking Ruto for the warm reception, the Ooni added that both countries need to work together to push for the inclusion of traditional institutions as enablers of good governance in Africa.
"It is clear that we must consciously expand our economic engagement with unprecedented access to markets between our two countries. Nigeria needs Kenya, and Kenya needs Nigeria. Our ambition is to develop the most ambitious ties that will propel us to sell goods and services more easily across borders while our children can pursue opportunities across Africa without barriers of immigration and unfriendly movement policies."
The Ooni's investment initiatives align with the African Continental Free Trade Area (AfCFTA), which aims to create a single market for goods and services across the African continent. Ooni believes that by investing in various sectors, he can help promote economic integration and break down barriers to trade and commerce.
As the spiritual head of the Yoruba race globally, the Ooni's investment initiatives have a pan-African focus and are driven by a desire to promote African unity and prosperity. With his recent visit to Kenya, the Ooni has signalled his intention to expand his investment footprint beyond Nigeria and promote economic development and social welfare across the continent.
Source: thisdaylive.com