BVB Set to Extend Bundesliga Lead, Napoli Set to Clinch Serie A Title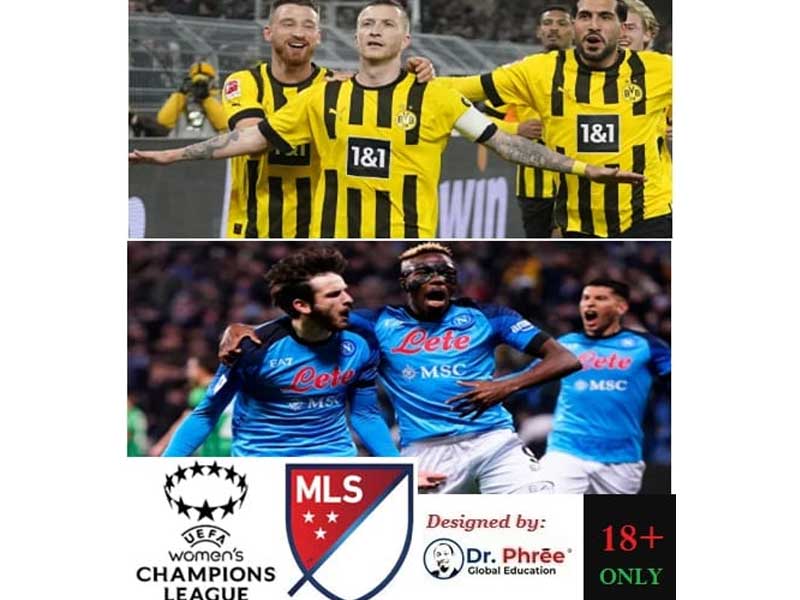 By Elegbede Abiodun
On Thursday, Everton and Tottenham will welcome Newcastle and Man United, respectively, for Premier League Action. Newcastle and Man United are the favourites and, therefore, likely to come out victorious going into these games, which are both expected to produce at least two goals. In other games, Fiorentina and Palmeiras are expected to beat Cremonese and Tombense, respectively. In the UEFA Women's Champions League, Barcelona women will take on their Chelsea counterparts, and either side could come out as the winner in a game that has been tipped to be a goal fest.
On Friday, Borussia Dortmund, optimistic of a first league title in 11 Years thanks a one-point advantage over an inconsistent Bayern Munich side, will look to extend their lead at the Bundesliga Summit against the relegation-threatened Bochum.
In American Major League Soccer, the game between Nashville and Atlanta United is likely to end in an Atlanta United victory or a draw if there are no surprises. Real Madrid and Benfica have been tipped to easily beat Almeria and Gil Vicente, respectively. Napoli are all set to clinch the Italian League title with a win against 14th-placed Salernitana.
Date Fixture Betting Tips
Thursday 27-04-23 Everton Vs Newcastle Over 1.5
Thursday 27-04-23 Tottenham Vs Man United Over 1.5
Thursday 27-04-23 Fiorentina Vs Cremonese 1
Thursday 27-04-23 Barcelona Women Vs
Chelsea Women Over 1.5
Thursday 27-04-23 Tombense Vs Palmeiras 2
Friday 28-04-23 Bochum Vs Dortmund 2
Saturday 29-04-23 Real Madrid Vs Almeria 1
Saturday 29-04-23 Napoli Vs Salernitana 1
Saturday 29-04-23 Gil Vicente Vs Benfica 2
Saturday 29-04-23 Nashville Vs Atlanta United Over 1.5
– thisdaylive.com –