Atlanta-based comedian Elenu entertains guests at the "Gyration & Chill" concert 2023
April 22, 2023
Atlanta-based comedian Elenu entertains guests at the "Gyration & Chill" concert 2023
US-based Nigerian Comedian, Babatunde Julius Akinlami, popularly known as the Monika, Elenu, recently organized a proudly Naija comedy show in Atlanta, where he now lives.
The third edition of his annual concert, "Gyration and Chill" with Elenu and Friends, was held on April 7th. The 2023 edition, "Gyration & Chill," has an unmistakable flavour, funny, and family-friendly concert fun dished in generous portions to keep audiences engaged.
The guests who trooped out witnessed outstanding performances from top comedians, such as Mcpc from Houston, Seyi Brown from Los Angeles, Ajebo aka Tegwole (Champion of Warri) from Nigeria, and the host himself, Elenu.
The likes of Maestro Bobby, Kelvin Boj, JSB, Ache Sule, Victor Ayara, Richie Smile, Paida, and Jtools were also on stage to thrill the audience with some good music, the event which kicked off at 9 pm was up until 1 am. Elenu is an award-winning comedian who has thrilled audiences across the globe for over a decade.
The excited Elenu, while appreciating all the performing artists, his fans, and attending guests assured them of more entertaining events in the year. The show was hosted by Nigerian Actors Daniel Lloyd, Chuks Omalicha, Nzube Onyia, and Social media influencer Oju Babe.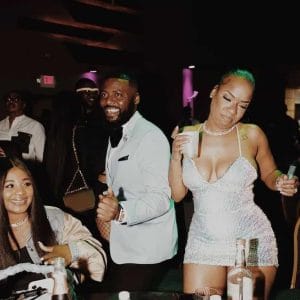 Atlanta-based comedian Elenu entertains guests at the "Gyration & Chill" concert 2023.
– applesbite.com –