QUES: Tell us about yourself?
ANS: I am a proud Nigerian and a passionate entrepreneur in the travel, tourism, and educational sectors. I am a Nigerian from Ogun State, and a loving husband married with four children. I run a conglomerate of companies providing value-added and exclusive services for the VIPs. I am an entrepreneur with a cross-over IQ in emerging business sectors that arouses my creativity and productivity. I dislike idleness because I believe nature abhors a vacuum. I love teamwork to build a web around professionals who have flair for excellence.
QUES: How did you come up with VIP magazine?
The VIP magazine came out from the need to project the personality of distinguished individuals while celebrating their journey and story in life. Our mission is to inspire and promote reputable leadership in Nigeria through formative stories as told by astute figures in the public and private sectors, respected diplomats, business and political personalities.
QUES: You are planning an event to honour women of impact, please kindly tell us more about it?
The failure or success of leadership in Nigeria rests partly on the influence of the media. Understanding the duality of the media's role as the voice of the masses and an amplifier for the voice of leadership in Nigeria, the VIP 100+1 Women of Impact is coming as a unifying bridge between women in leadership capacities and the masses they have impacted. The inaugural edition of this award is the start of what we hope to be the go-to chronicle of deserving women who have used their position and resources in bold, innovative, measurable, sustainable, and impactful ways in Nigeria. We aim to make a statement that Impact is a step beyond excellence.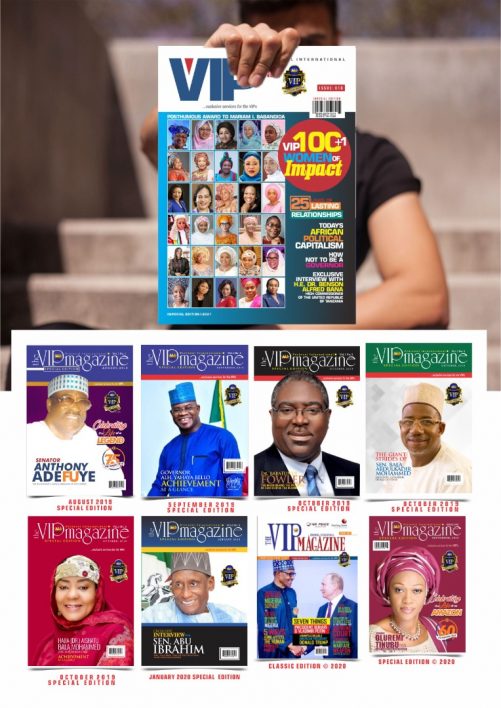 QUES: Do you think women have been given their desired place in politics and governance?
No. Despite the continued call by civil societies, international organizations, and passionate individuals for increased inclusiveness of women in politics and governance, I am afraid that much gains have not been realized in reducing and eliminating patriarchy at all levels and sectors in Nigeria. In politics and governance as in other fields of endeavour, women continue to face discrimination and relegation in aspiring to decision-making levels. We must do our bit in wielding a battering ram against this glass ceiling, it is the responsibility of all to pitch in and collectively realize one of the key SDGs in Nigeria.
QUE: What are the expectations during this event?
I must mention that this award is a clear departure from the usually politicized manner of recognition obtainable these days. The VIP 100+1 Women of Impact Award is one of its kind put together to showcase Nigeria's Amazons and unsung heroines. We expect an impressive turnout and participation as well as a robust and insightful address from the Vice President of Nigeria who will be the Chairman and Keynote Speaker at the event. We also expect that the awardees leave with a renewed passion to continue on the path that led them to such national recognition.
QUES: To organize events at Transcorp is capital intensive so how are you funding this?
ANS: There is a commensurate investor attraction for every business idea. From the onset of the conceptualization of the VIP 100+1 Women of Impact, it has enjoyed patronage from readers and those who have been showcased. Most of the featured VIPs only give a word of appreciation written or oral, it ends there, at times we only need people to tell us that what we are doing is right for Nigeria, then we move on, and hope to catch on with providence from an entirely different source. We are grateful to God, the VIP magazine sister companies such as Tomtalabs Worldlinks Ltd and Talabs Educational Academy (Nig.) Ltd which had been in business for a long time is subletting Profit Before Tax (PBT )to publications for at least ten editions in advance to enable VIP magazine to stand on its feet. The Transcorp event is entirely a collaboration between VIP sister Companies and partnerships based on leverage.