Good morning ladies and gentlemen. Thank you for being here as we honour my dad, Captain Idahosa Okunbo. Ladies and gentlemen, the extent of my dad's impact is embodied in the tremendous show of love and support my family has received from you all and many around the world in the past two months. It is humbling to see this room filled with many people who knew and cared for him. Thank you. I would like to specially thank my great king and loving husband Ogiame Atuwatse III for the love and support in this most trying time in my life, he is ably represented by the Chiefs and Royal family. Aghan Dede Mo Kin o! Modopke gidi gbo. To all that have attended today, I say thank you. As you have honored my father you will be honour Ed among the nations and peoples of the world.
As we remember a great man, Captain Hosa, I'd like to share a memory that encapsulates him. On my last trip to London to see him in the hospital, I travelled through the Abuja airport as I had done many times before. However, that day was different. In hindsight, I believe God was showing me the core impact my dad made in the world. No, he did not build an airport wing or a runway. His influence was much deeper than brick and mortar. In that bustling place of transit, Captain often slowed down to touch lives.

From security to check-in and immigration, airport staff faces lit up whenever they discovered I was Captain's child. They shared stories of his kindness. Many relayed memories of how he paid their children's school fees, house rent, or hospital bills. Money was not all he gave, though. He listened, comforted, and generously used his network to help.  
That day, my heart rejoiced because I knew that, in his simplicity, Captain personified the greatest virtue: Service. Their testimonies reaffirmed that selfless service is the most effective way to lead. Indeed, my father lived Christ's words: "He who is greatest among you shall be your servant."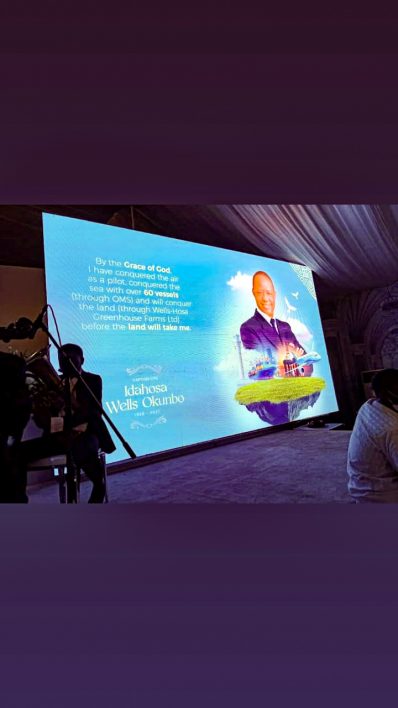 People say that earth is a transit zone, and heaven is our destination. As Captain journeyed through the earth, he was never too busy or too big to serve. He neither spoke about these generosities nor expected anything in return. When I say my dad was a great man, this is how I measure his greatness—by how willing he was to lend a listening ear, to give hope, and to serve. By his heart of service, not by his wealth or awards. I said this at his 60th and SundayI know this is how he and our Saviour, Jesus Christ, would measure it too.
My dad was my hero long before I understood the public power and impact of his life. I grew up watching him make choices designed to dissolve the walls of impossibility he and others around him faced. Captain Hosa walked in purpose and, in doing so, encouraged others to find their paths. From humble roots, his driving dream birthed outstanding achievements. He was such a wise and invigorating presence that all were inspired by the daunting goals he set for himself. Daddy built industries; he conquered the land, air, and sea, and then he gifted this world with thriving institutions that will be enjoyed by generations to come.
Everything he was, he taught us to be. I cherish memories of my dad leaving important things to attend to his children whenever we needed him. His family always came first and everyone who came into contact with him knew it. To us, Daddy's love was a safe haven; one firm enough to see us through tough times and tender when we needed the warmth only his love could bring. He loved us all so genuinely and so intentionally that I bet if you asked us individually, we would each say we were daddy's favourite child. If you ask me, and for this purpose of this eulogy, I claim this title.
As we grew older and carved paths for ourselves, he kept tabs on us all. He never stopped being an incredible father. It was a delight to see how his grandchildren brought new joy to his life. Indeed, some of his most prized possessions were the pictures of his children and grandchildren that surrounded him. Knowing the end was near, daddy drew us all closer and wisely prepared for the journey ahead. I often became a member of the 4am phone call gang. He would call to just talk to me to check up on me and see how I was doing. I will always cherish the memory of these last few month with him.
Seeing my dad trust God through the greatest fight of his life this past year, taught me how trust God completely even when it's most difficult. I would speak to him and his level of surrender to the will of God often times led me speechless. He would always say, "Ivie my life is in Gods hands." He didn't say this because he gave up, he said this because he trusted him. So, today, I stand before you, not unaware of the vacuum his passing has left, not unaware of the fear that grips many hearts as to the uncertainty of the future but trusting the LORD to journey us into an even brighter future. Through the week, listening to many tributes I have been overwhelmed with awe as I reflect upon his impact and his legacy. My pain is assuaged by my confidence that, even as we mourn his passing, he is dancing and praising God with the angels and 24 elders in heaven. A dear friend of ours says it's not about dying old it's about dying finished. Captain died finished, he was a poured out drink offering unto God and an example of what living life should be. He would always say don't leave til tomorrow what you can do today. I would think but it's so fast paced! He seized everyday with the intentionality of living for the fullness of the day, he embodied what the psalmist wrote when he said teach me to number my days that I may gain a heart of wisdom. My father knew
My Father had "numerable" children as my sister Oghogho said in her speech yesterday. And I would liken my father to like Joseph's coat of many colours, he was man of many parts and sides, and each of his stripes is reflected through all his children. As you look at each one of us, each stripe unique yet reflecting a piece of his personality. You see my brother and h. Captain never
Osahon- is dogged risk taking nature to do business, impossibility does not exist to him, he is creative and cutting edge
Adesuwa- Pioneering, focused, loves her calculator! Lol!
Deborah her love for discipline and principles
Osariemen her kind heart and fun loving nature, she's so easily loveable and so forgiving!!
Osarumwese her love for philosophy and esoteric thinking, she's also a young lady with high principles who is never afraid to speak the truth, even in the most diplomatic way.
Nosa his kind heart and his strives for excellence, he is forward thinking and is able to think light years ahead of his peers.
Oghogho: Focused hard working driven and gets the job done, she gets the job done and she gets it done excellently well. Oghogho doesn't understand second place. Her place is number 1.
Omosede- Her love for the underdog and desire to help humanity, she is easily loveable and always wants to stand up for those who can't speak. She identifies with the souls of those she meets.
Esohe- our chocho as we call her has his playful nature, so sweet, so kind, so funny and connects deeply with those she loves. and sense of humoir, she also has his heart and principles.
Ryan and Bryan- The ones that most remind us of him. They have the purest and most beautiful hearts. Ryan is a smooth ladies man and Bryan the one who cuts to chase! Together they have the most beautiful hearts.
I'll leave you to guess which stripe of him I took. Each stripe beautiful in it own right, unique in its own way. But when put together we form the beautiful coat of many colours that is Captain Idahosa Wells Okunbo.
At this point I will address my siblings, Daddy's spirit lives on in our very essence and as we embrace the fullness of who we are and maintain our bond through life we will carry his vision and strengthen his legacy. his legacy is now ours to strengthen. He has left the world a better place through his service and sacrifice, and we will ensure that we live upholding his essence to see it passed on from generation to generation to generation. For us, his children, our work is to keep his memory alive and remind the world about his genuineness and depth of character. United we stand, and we will always be found standing.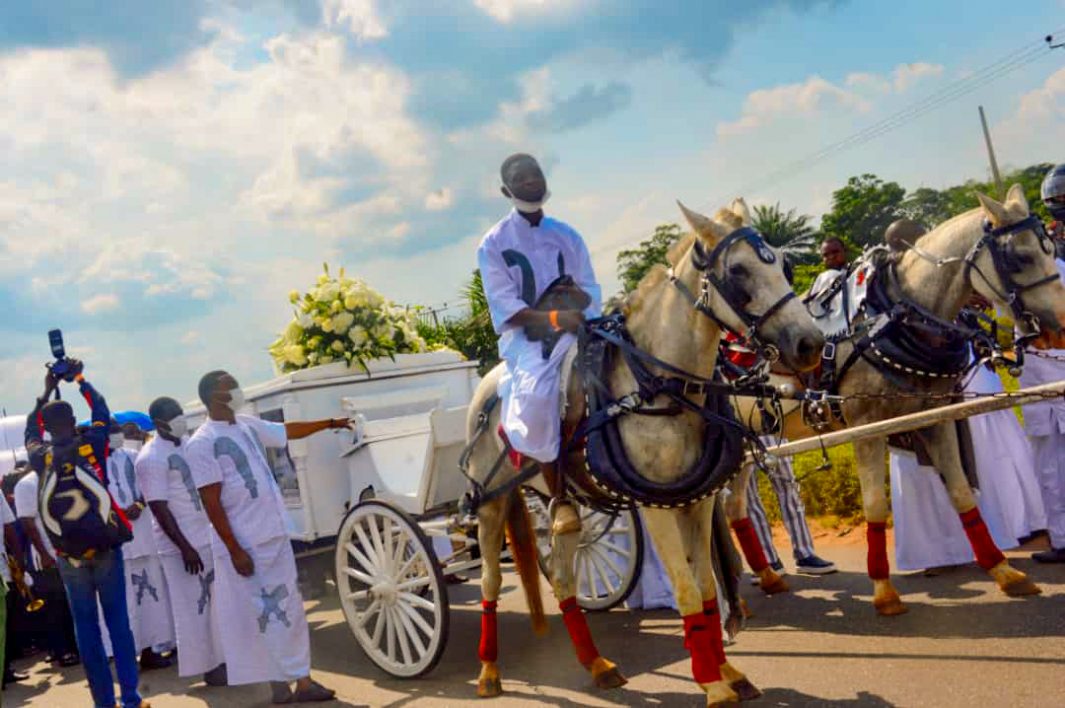 Beyond my siblings I want to address you wonderful people that came to support us here today and honour him. I believe that mantles never die, I know my dad lives on through the lives he changed and the hearts he touched. He lives on through you, who witnessed his light. My Father did so much for us all. Now, it is our turn to say, "What can we do for Captain? How can we live to make him proud?"
To this i will suggest that we do for others, what captain did for you. He was a light that was always eager to light others. For all who were touched by him, impacted and imparted by him directly or even through the testimonies of him you have heard this week, he has passed that baton on to you and I want to encourage you to hold that baton and keep the race going. If what stood out to you out his life was that he was a man of peace, then live peaceably among others, if what stood out about you to him was that he feared God, then adopt a tenderness of heart and a reverential fear of God in your dealings, if what stood out to you was his resilience for work and excellence then strive to do that. And as we aspire and implement these virtues I believe the grace of God will greatly help and enable us to attain them.
No doubt, my father, Captain Hosa, was successful business leader, but more importantly, he had a great Saviour. His love for Almighty God kept praise on his lips constantly. When faced with challenges, he would thank God. Singing and dancing in praise to our Lord and Master Jesus Christ came to him instinctively. His hope was not in the things of this world but in Christ, the One who created the world. And so though we are sad and we grieve today, as the Apostle Paul said, we do not grieve as those who have no hope.
Ladies and gentlemen, at this point, please permit me to address my dad personally:
Daddy, we love you for an infinite number of reasons. We are blessed to have had you as our father, and we are deeply grateful for the wonderful life you gave us.

Daddy, your love, patience, understanding, wisdom, and sense of humour will live with us forever. You were a devoted father and a fun one. You gave us some of our best memories, and we will never forget your singing or your amazing dance moves! I miss your voice. I miss your singing. Thank you for embodying true love. Most importantly, thank you for giving us the most precious gifts—a good name and a solid foundation. We didn't get to tell you often how much we loved you. How truly important you were to us all.
So, dad, as you look down on us from your place of glory, know that you are remembered in this lifetime by all who knew you. Your name will be etched in history for generations to come in our lineage and beyond. You were a father like no other. We will keep your memory burning like a lamp till we meet again to part no more. We miss you, and we love you.
I love you. Rest well, Dad.